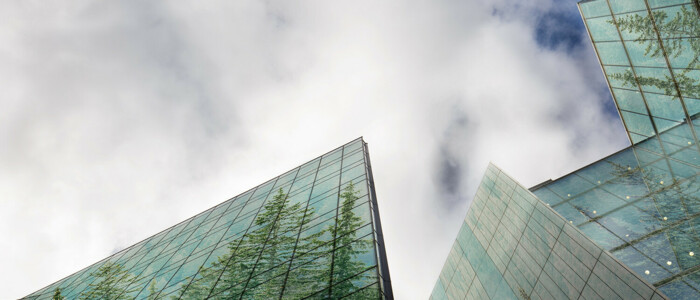 ESG
Bellevue is committed to ESG evaluation as a core part of the investment process
Bellevue Healthcare – ESG Framework
Bellevue's formal ESG guidelines cover areas such as compliance with global norms (UN Global Compact and Guiding Principles for Business and Human Rights, ILO standards, etc.), value-based exclusions, corporate controversies, climate change factors and active ownership (management engagement, voting policies, etc.). ESG screening for controversies is an integral part of the investment process.
Beyond this, we do not apply specific scoring criteria for exclusion from our portfolio because we feel that an external rating or scoring approach has significant limitations and we see these more as tools to consider within a much more comprehensive and holistic approach; ESG scores and coverage are strongly correlated to market capitalization, reflecting the additional resources larger companies can deploy to meeting the assessment criteria.
Since our investment strategy leads us to own focused mid-sized companies in preference to the larger diversified ones that dominate all the recognized benchmarks, the portfolio's ESG score will be at an unflattering disadvantage and we think such a reductive snapshot would be unhelpful in accurately reflecting the Company's broad adoption of ESG as a core investment principle.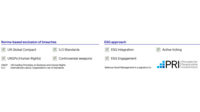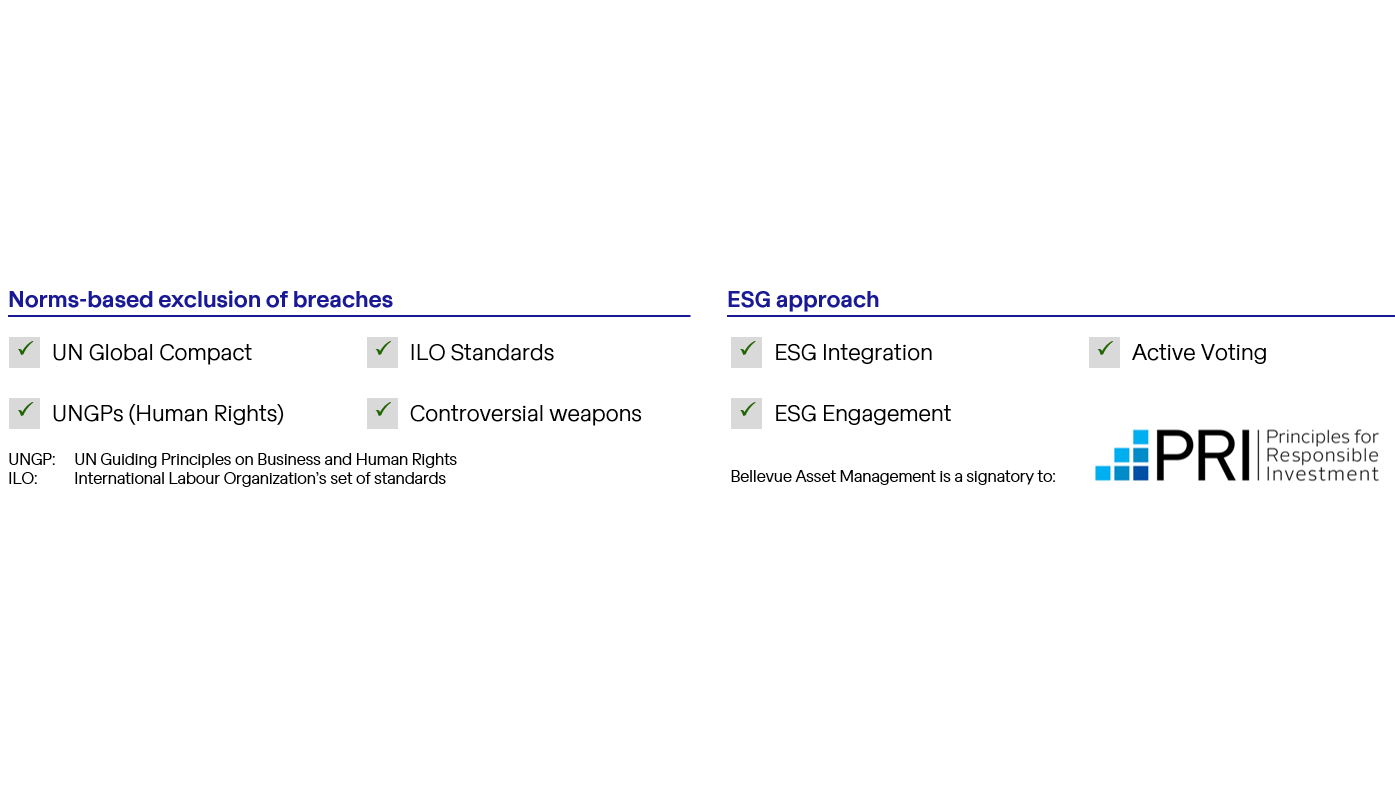 ENVIRONMENTAL, SOCIAL AND GOVERNANCE ("ESG")
POLICY
The following section summarises the Investment Manager's position on integrating ESG factors, from both a Company perspective at the Bellevue Healthcare Trust level and at the appointed Investment Manager level from a Bellevue Asset Management ('Bellevue') standpoint.
Bellevue has viewed the integration of ESG factors as a core principle for a number of years now. It launched its first ESG-focused healthcare fund in 2018 and became a signatory to the United Nations Principles of Responsible Investment ("UN PRI") in 2019, publicly demonstrating its commitment to having incorporated ESG issues into investment practice.
PRI signatories must provide a report on their ESG approach. Bellevue will make its next PRI report public once it becomes available; the PRI's publication of all 2021 reports was pushed back into 2022 due to technical challenges with the implementation of a new reporting framework. In light of this, and feedback from various stakeholders, the next reporting cycle has been delayed until early 2023.
At a corporate level, Bellevue's parent company is deploying a CO2 reduction strategy. This encompasses measures such as an independent audit of its CO2 footprint according to ISO14064-1 and GHG protocols, implementation of corporate CO2 reduction and offsetting of excess emissions with high-quality climate projects. Bellevue Group is targeting a reduction in CO2 emissions per FTE of at least 30% by 2030. Moreover, the Bellevue Group was certified as carbon neutral by Swiss Climate in late 2021.
At the portfolio management level, Bellevue has been consistently refining and adapting its ESG investment guidelines and processes to remain at the forefront of what is a rapidly evolving field, in terms of what investors consider to be best practice and also to reflect the UK and European regulations around implementation and disclosure.
The integration of ESG research and consideration of sustainability opportunities and risks are core aspects from the very beginning of the investment process and are documented. Bellevue's formal ESG guidelines cover areas such as compliance with global norms (UN Global Compact, Guiding Principles for Business and Human Rights, ILO standards), value-based exclusions, controversies, climate change factors and active ownership (management engagement, voting policies, etc.). This can be summarised in two guiding principles:
• Companies that are involved in serious violations of internationally recognised norms regarding the environment, human rights and business ethics are excluded from all portfolios.
• Companies with controversial business activities that exceed generally accepted revenue thresholds as set forth by norms-based criteria are excluded from all portfolios (these exclusion thresholds are detailed below).
Management of ESG factors within the Bellevue Healthcare Trust investment portfolio
As noted previously, the consideration of ESG factors is a core part of the initial stages of the investment process, so as to screen out companies that would not meet our criteria as early as possible. Since inception, there have been several companies where we have decided not to progress into detailed due diligence because they have failed to meet our hurdle. The most common reasons for this have been the governance structure or reporting quality.
Whilst the vast majority of investors recognise the importance and value of ESG within the broader investment process, it is a truism that the assessment of ESG considerations is often over-simplified to the level of significant controversies or an aggregated ESG score provided by third party agencies. We remain firmly of the view that the process must reflect the pitfalls of an over-simplified "one size fits all" approach, especially in an industry as diverse and complex as human healthcare.
In the case of the Company, we use MSCI ESG reports for qualitative and quantitative input. Where MSCI does not yet cover an investee company, or the available data is not comprehensive, we rely on other third-party data providers and internal evaluations. MSCI continues to broaden the scope of its coverage and the proportion of investee companies where detailed ratings were available increased again during FY2021.
MSCI assessment criteria are aligned with the Sustainability Accounting Standards Board ("SASB") recommendations. SASB provides a set of industry-specific guidelines which identify relevant issues and their associated metrics for a particular industry and is one of two most widely used standards. SASB dominates in the US, whereas the Global Reporting Initiative ("GRI") standards are more prevalent in Europe.
The differences between these two standards are somewhat conceptual: GRI emphasises broad and comprehensive disclosures on organisational impacts and does not differentiate on emphasis between market sectors, whereas SASB focuses on a subset of financially material issues and applies specific criteria to each industry sector. In short, one is more qualitative and the other more quantitative in emphasis.
As the disclosure of data regarding ESG factors becomes more regulated, we expect the approaches taken by investee companies and third-party reviewing agencies to converge on an approach that encompasses both of these standards and we consider our existing internal processes to already reflect aspects of both approaches.
As noted above, MSCI reports are only part of the process; we have our own internally-generated metrics as well that form the basis of decision-making so we are not solely reliant on third-party data or adherence to a singular industry standard as the basis of our approach. We do not apply specific scoring criteria for exclusion from our portfolio because we feel that an external rating or scoring approach has significant limitations and we see these more as tools to consider within a much more comprehensive and holistic approach.
Since both the Company and Bellevue are committed to ESG as a core principle, we will increase the visibility of the various ESG initiatives over time. However, we are loathe to give named examples of situations where we have elected not to invest in a company or where we have an active engagement on a specific issue. We feel these conversations are far more likely to be effective if they take place in private. We are also of the view that the ESG rating industry (and its approach and processes) are still immature and so we are not going to devote significant space to any quantitative analysis of such metrics at this stage, although we do recognise this is the inevitable direction of travel from a regulatory perspective.
With those caveats having been made, we would note that the aggregate rating of our portfolio based on MSCI ESG ratings has risen from 'BBB' in November 2020 to 'A' in November 2021 (for reference, the MSCI World Healthcare Index is also rated 'A' overall) and the vast majority of the companies within it have seen improved scores and/or overall ratings during the past financial year, many having been rated in detail for the first time. Whilst the portfolio has inevitably changed over the past year, were we to have back tested the November 2021 portfolio by applying its November 2020 ratings, we would similarly see a positive evolution from a 'BBB' rating to an 'A' rating.
This is not so much because the businesses have changed, but more typically because there has been a mutual engagement between the Company and the rating analyst that has enabled a better understanding of the business and its practices. Even so, we still see what we consider to be fundamental misunderstandings or unfair comparisons for pre-commercial or early-stage commercial companies all too frequently and we feel these scores will only really be of quantitative value when that is no longer the case.
Since some readers may disagree with our opinions on the current value of scores and ratings, the MSCI ESG quality score for the Company's portfolio was 6.40 as at the end of November 2021, compared to 6.24 for the MSCI World Healthcare Index: our views on the utility of these metrics is not because we have something we wish to hide; it is because we are trying to be candid with the Company's Shareholders regarding the limitations of such scores in isolation and thus the extent to which one should rely upon them to judge the merits of a particular investment.
Why do we continue to dismiss these quantitative metrics? Conceptually, making ESG comparisons between companies or portfolios appears simple, but it is actually rather complex. Fundamentally, the composite ESG ratings reflect how well a company compares to its peers. For healthcare, the environment element is limited in importance, but the Social and Governance pillars each make up ~40% of the overall score.
It is a truism that larger companies can afford (in both monetary and temporal terms) to invest more in areas such as human capital development, charitable access, etc. As a consequence, we still see very strong correlations between company size, maturity and overall scores. Since our investment strategy leads us to own focused mid-sized companies in preference to the larger diversified ones that dominate all the recognised benchmarks, the portfolio's ESG score might tend to an unflattering disadvantage versus the wider MSCI World Healthcare Index.
Bellevue seeks to interact with companies that it feels have been misunderstood during this rating process and offers guidance on how to communicate more effectively around the issues deemed contentious by external agencies such as MSCI. We have, on occasion, also sought to interact directly with MSCI when we have felt that the approach they have taken is not appropriate.
Thus, notwithstanding the portfolio's positive relative score, we think that a reductive snapshot such as a single rating or composite score remains unhelpful in accurately reflecting the Company's broad adoption of ESG as a core investment principle and the inherent ESG qualities of the companies that we own. In time, we hope that we will view this situation differently; we would welcome a scenario where a convergence in approach across the marketplace meant that consistent and comparable third-party data on ESG factors for investee companies were widely available to all investors.
Responsible stewardship
Responsible investing does not end with the due diligence process and selection of the investee companies; the importance of ongoing engagement with management teams cannot be overstated. Active fund management arguably derives a material proportion of its alpha generation opportunities through the ability to proactively consider and debate potential issues with company management teams and we are pleased to note that the pandemic has not adversely impacted the availability of management teams for regular or ad hoc meetings to discuss such topics.
Both Bellevue and the Company's Board take our voting obligations very seriously and there are multiple structures in place to ensure that we vote in all Shareholder meetings. Over the period in review, we took part at 30 votable meetings (covering 259 resolutions). For all of those meetings, we voted in line with management recommendations (although we have voted against management teams in the past when we felt it appropriate to do so). 27 meetings were for companies in the USA, the remainder abroad.
Engagement is one part of the process. If we find that management teams are not receptive to our concerns, then we are happy to escalate to the point where we exercise our voting power to encourage change. However, one must recognise that we are but one of many Shareholders and that it will often be the case that even exercising our voting power is not enough to elicit change. In such a situation, we would divest our holding. The Investment Managers would argue the fact we have yet to divest a holding due to ESG factor considerations stands as evidence that the initial screening approach at the beginning of the investment process is robust in helping us to avoid potentially controversial investments.
Although we want to be supportive of investee management teams and their plans to grow their businesses, we are quite happy to exit positions when we lose confidence in management or strategy and several examples of such situations can be found in our monthly factsheets (we have talked publicly about our exits from Teladoc and Illumina around M&A transactions that we could not support for example). We aim to be firm but fair; one should not be trying to be popular with companies, but rather respected for the robustness and quality of the interactions that we have with them. Most importantly, there are no sacred cows in the Company's portfolio.
Specific exclusion criteria and tolerance thresholds
It would be very easy to claim that one has a blanket ban on investing in everything that's bad or that all one's investments are sustainable. However, some points of view are subjective – is nuclear power really a bad thing?
Finally, one must recognise that rarely are matters so clear cut as to be able to definitively state a company has zero involvement or exposure to a controversial area (e.g. does the on-site shop at a manufacturing site sell cigarettes?, what about the activities of the investment's key suppliers?).
As such, it makes more sense to operate by a set of guiding principles based on data that can be simply ascertained from management and that are realistically achievable for the portfolio overall.
The parameters that Bellevue has selected and agreed with the Board of the Company are detailed in the table below. These are aligned with, or go further than, the criteria enshrined by Bellevue Asset Management's group-wide policies. These have been adopted for CY2022 and beyond.
Some readers may wonder why a healthcare fund might chose to take a formal position on some of these issues: are we really ever going to end up with exposure to fossil fuel extraction for example? Again, our approach reflects the relative immaturity of the processes being put in place by the custodians holding our shares on behalf of investors.
There is still a "one size fits all" approach to the assessment of ESG factors, such that we would likely be deemed non-compliant if we lacked a policy on any of the widely agreed contentious topics, whether they are relevant to us or not (ESG factors are not alone in this regard – the Company is required by law to have a modern slavery disclosure, even though it is an investment company and thus has no employees).
Thus, the table below exists as much a documentary 'terms of reference' for people compiling such reports on behalf of underlying investors as it does to inform Shareholders about what we are doing in respect of running the portfolio.
Potential Issue/
controversy
Comment
Exclusion Criteria
(max % revenues)
Environmental considerations
Thermal Coal
The company would not knowingly
invest in a holding involved in the
production of any fossil fuels.
2%
Other Fossil Fuels
The company would not knowingly
invest in a holding involved in the
exploration for, or production of,
any fossil fuels. This encompasses
fracking and other unconventional
oil sources.
2%
Nuclear Power
The company would not knowingly
invest in a holding involved in the
production of nuclear energy
2%
Palm Oil
Palm oil and derivatives such as
tocopherol are widely used excipients
in biomedical preparations and unlikely
to be avoidable within the investment
mandate. We try to ensure that investee
companies are committed to sustainable
sourcing of such products and are thus not
promoting deforestation.
5%
Responsible Mineral
Sourcing
To the extent that it is relevant, we aim
to ensure that investee companies source
raw materials such as minerals from
responsible suppliers who comply
with relevant global standards
around the environmental and
social impact (e.g. no forced labour,
conflict minerals etc.) of mining activities.
2%
Environmentally
damaging
agricultural
chemicals
(insecticides,
herbicides etc.)
The investment focus of the Company is
on human healthcare and so we would
notintentionally invest into companies
manufacturing or supplying agricultural
products that may have an environmental
impact. However, there is a longstanding
historical linkage between the chemical,
pharmaceutical and agrochemical industries
and it is possible that such legacy business
tie-ups do persist, therefore we apply
a higher threshold.
10%
Social considerations
Alcohol production
(beverages)
The Company would not knowingly invest
in a holding involved in the production of
alcoholic beverages, but alcohol is a common
constituent of medicinal products and
sterilisation solutions.
2%
Tobacco
production
The Company would not knowingly invest
in a holding involved in the production
of tobacco products.
2%
Tobacco sales
Indirect exposure to tobacco sales through
retail outlets or peripheral activities is hard
to fully discount, hence we allow for a higher
threshold versus other considerations.
10%
Cannabis-based
products
The Company can invest, and has invested, into
holdings that offer therapeutic products derived
from, or containing cannabinoids. However, the
Company would not knowingly invest into a
holding involved in the production or supply of
recreational cannabis products.
n/a
Pornography
The Company would not knowingly invest in
a holding involved in the production or sale
of pornographic material/content.
2%
Gambling
The Company would not knowingly invest
in a holding involved in the provision of
gambling services or the operation of
gambling venues.
2%
Predatory lending
practices & price
gouging
We seek to ensure that, where applicable,
investee companies do not supply products
under terms that would constitute unfair,
deceptive or predatory terms to customers
or engage intentionally in price gouging
during periods of tight supply.
2%
Animal testing and
related animal
welfare issues
The use of animal disease models in
pharmaceutical R&D and the undertaking
of pre-clinical testing in animal species are
integral parts of the regulatory pathway for
approving new medicines. Given the risks
involved in unproven medicines and the
human suffering such products alleviate,
we agree such testing is morally and ethically
justified at the current time due to the absence
of credible alternatives. We therefore limit our
focus to ensuring that investee companies
adhere to the highest standards of welfare
in respect of the animals that are used for
such purposes.
n/a
Genetic research
Whilst we appreciate that some investors
find the manipulation of genetic material in
animals or human cell lines to be controversial,
it has the potential to greatly enhance our
understanding of human disease and, via
gene therapy, gene editing and gene silencing
to be directly deployed as a therapeutic
intervention, particularly in areas of high unmet
need. As such, we do not consider this to be
controversial, as long as research follows
accepted ethical guidelines and
is appropriately supervised.
n/a
Use of embryonic
stem cells
Whilst the utilisation of embryonic stem
cells (gathered historically from aborted
foetuses, more commonly today from unwanted
IVF embryos that are donated with informed
consent or taken from similarly donated umbilical
cord material) is undoubtedly controversial, it
also has the potential to greatly enhance our
understanding of human disease and there are
not currently viable alternatives in many cases.
There are ethics guidelines (most notably those
of the US National Institutes of Health, 2009) and
our focus is to ensure that, where such research
is undertaken, it is performed in line with
these guidelines.
n/a
Conventional
weapons &
military contracts
The Company would not knowingly invest in
a holding involved primarily in the provision of
armaments. We would note that, as large
employers in many countries with their own
dedicated healthcare infrastructure, many
investee companies will have contracts to
supply the military forces of a country with
healthcare products and/or services. Military
personnel are just as entitled to good healthcare
as anyone else, so we do not see this as an issue.
2%
Unconventional
weapons
Bellevue Group maintains a list of companies
connected with the supply of unconventional
weapons and investment into such companies
is prohibited.
0%
Governance considerations
Dealing with
oppressive regimes
Whilst it may be unpalatable to deal with corrupt
or oppressive regimes, it would only compound
the misery and suffering of the oppressed people
if they were also denied access to healthcare
products and services. As such, we do not judge
our companies on who they chose to supply
life-saving products and services to.
n/a
Bribery & Corruption
The managers are committed to investigating
serious allegations of bribery or corruption
made against investee companies and
discussing these with management.
n/a
Equitable access to
products for
developing
countries
Within the healthcare sector, affordable access
to products for less developed countries is
rightly highlighted as a controversial area
and an important topic. We do engage with
management teams around this topic. However,
you cannot supply regulated products into
markets where those products have not yet been
approved and this point is often misunderstood in
certain external ESG ratings, with smaller
companies unfairly penalised when they only
have approvals in a handful of developed
countries.
n/a
Human capital
development and
diversity
It is laudable that external rating agencies focus
on human capital development and diversity.
However, one must be pragmatic and take into
account the size and geographic focus of a
company. A small, research stage entity based
in one location is simply not going to be able to
match the diversity of a broad-based
multi-national, nor will it be at a stage where it
is hiring inexperienced people with a view to
training them up. We see inappropriate
comparisons being made in these areas
all too frequently.
n/a
Explore Bellevue Healthcare Trust